Harbin was our introduction to mainland China. In two days we managed to see a lot. It started of badly with our group being swarmed by the Harbin taxi population upon arriving at the airport. Travelling in a group of 10 meant we needed 3 taxis which made things difficult. Later on we found out we were ripped off by the taxi drivers as well.
To make things worse when we arrived at the Friendship Palace hotel, the hotel did not have details of our booking made through hotel.com.au even though hotel.com.au had charged our credit card. We did manage to get rooms but only after repaying.
The next day, still shaken from our taxi experience we all decided to arrange a 2 day tour for ¥938 (approximately $152AUD) per person. The tour included a tour bus, all entry tickets and a tour guide.
Included in the tour was:
Harbin Tiger Preserve
We came face to face with many big cats, including tigers, lions and even a liger. We started in a minivan driving inside the large open enclosures; the tigers were quite interested in us, coming right up to the van's windows. Following the drive, we went by foot on the internal walkways and experienced tiger feeding time.
Harbin Polarland
Opened in 2006, Harbin Polarland was featured seals sea lions, penguins, Arctic Wolves, dolphins and even a polar bear, plus many aquariums with exotic marine life. The extrance also featured many snow and ice sculpture and as this was our first experience around them we had a lot of fun taking lots of photos.
(Ninth) Harbin Ice and Snow World
Harbin Ice and Snow World featured some of the world's largest ice sculptures. On entering the size and complexity of the brightly coloured sculptures was quite outstanding. The ice sculptures were replicas of the Great Wall, Pantheon, Five-Pagoda Temple, Gate of Heavenly Peace, Stonehenge, plus many more I don't know the name of.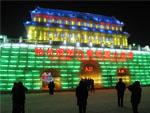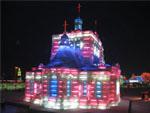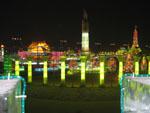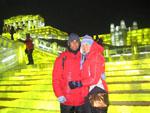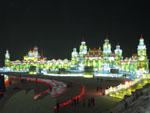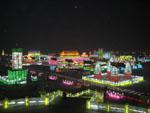 Harbin Jihua Ski Resort
The second day started with a 1 hour drive to Jihua Ski Resort to attempt skiing. The tour included 2 hours of equipment hire and admission. Even though the ski slopes were artificial, they still looked very beautiful covered in snow.
Sun Island Snow Sculptures
After skiing we ended the day with a visit to Sun Island which features snow sculptures as part of Harbin International Ice and Snow Sculpture Festival. The snow sculptures are lit up with coloured lights, giving them an eerie feel due to the shadows. The festival also featured the world's largest snow sculpture.
Harbin Russian Street and Songhua River
To end our Harbin tour and visit, we walked down the Russian Street (Zhong Yang Street). This all happened while it was snowing and lead to much shenanigans while playing with the snow. For dinner we ate traditional Russian cuisine and drank vodka and kvass. After we walked to Songhua River and walked on the river as being frozen made it quite safe.